A Montana getaway offers space for a family to disconnect from the hectic pace of Canadian city life and reconnect with each other.
When Kelly and John started thinking about building a vacation home, they were looking for more than just a house. With busy careers and four young children, they wanted a place where they could disconnect from the hectic pace of their weekday lives and reconnect with each other. Their rustic log home in the Flathead Valley in Northwest Montana has become more than just a vacation getaway: it is truly a home away from home.
With their primary residence across the border in Canada, the family drives five-plus hours each way to their lakefront cabin, but with their school district's monthly three-day weekends, they make the trip regularly year-round. For the past two summers, Kelly and the kids have spent the entire summer at the cabin, relishing the slower pace of life.
The property John and Kelly found is just under an acre, with 200 feet of shoreline on a quiet, remote, crystal-clear lake. "My husband saw photos of the lake and wanted to go see it in person," says Kelly. "He thought it looked almost Caribbean." The couple visited and knew immediately that it was the spot they'd been seeking.
The decision to build a log cabin was an easy one. "I grew up in a small town in Alberta in a very rustic log house," says Kelly. "We both agreed a rustic—but nice—log cabin would fit the bill for our family." At 1,800 square feet (plus an unfinished basement), the home is less than half the size of their primary residence, but Kelly and John like that the small size fosters time spent together.
"At our bigger house, each kid has their own bedroom, and they're all spread out, so we don't spend as much time together," says Kelly. "At the cabin, I specifically wanted the kids to share bedrooms." Without a TV for the first few years, the kids used their imaginations to entertain themselves, and passed the days playing board games or cards. "We spend a lot of time playing outdoors," says Kelly. The family spends its summers on the lake swimming, tubing, kayaking, or fishing. During the winter months, you're likely to find all four kids ice fishing on the lake. "They are avid ice fishers, and they're really good at it!" says Kelly.
When the family gets the urge to roam, there's plenty to explore nearby. Glacier National Park is just 45 minutes away, with skiing at Whitefish just a little bit farther away. The town of Kalispell is close by and offers shopping and restaurants when the family wants a taste of town life.
Kelly describes their log home as "rustic elegance": well-appointed but comfortable and easy. "I wanted it to be nice and still have nice décor, but I wanted you to be able to put your feet on the coffee table," she says. "If the kids make a giant mess in the loft area, I didn't want to worry about it. I wanted them to be able to do whatever they want."
The home design was customized by Montana Log Homes in Kalispell, Montana. "John and Kelly bought the lot and then met with me," says Brad Neu of Montana Log Homes. "They looked at several of our stock plans and ended up taking design elements from three different houses." John and Kelly wanted lots of glass to take advantage of the lake view, and enough sleeping space for the family and guests. "The sleeping quarters for enough people was a priority, so they can later finish the basement for two more bedrooms without expanding the footprint," says Neu.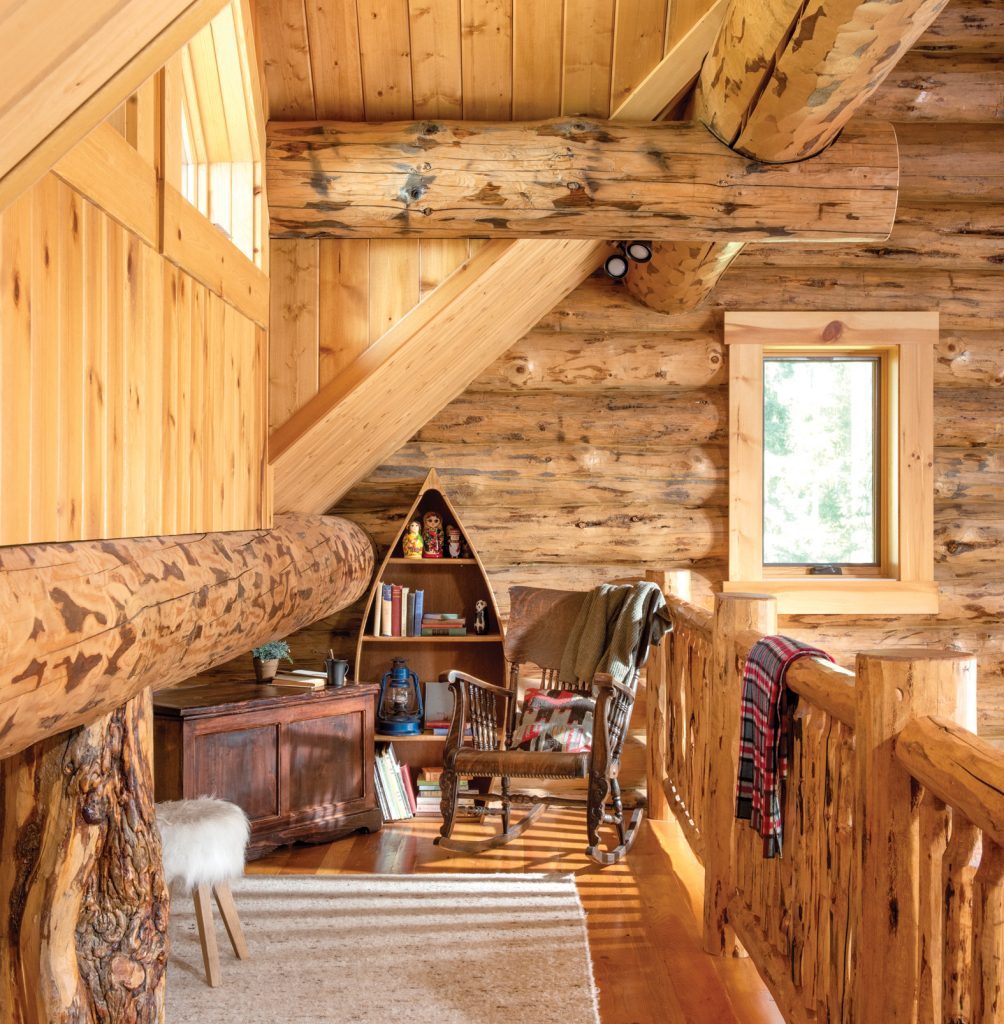 The four-bedroom, two-bath home was built using skip-peeled 12-inch Lodgepole pine. Montana Log Homes uses standing dead timber that's been killed by pine beetles, and it uses skip peeling to give the logs a more rustic look. The log ends are staggered and finished in what Neu describes as a "beaver cut" to add to the rustic aesthetics. "We also used a few real 'character' logs," says Neu. "They really give the home a lot of personality."
The couple had looked at other log home companies, but in the end appreciated not only the product offered by Montana Log Homes, but also the service. "We looked into other log home builders, and when we set our budget, it was highly affected by the Canadian dollar's value; but Montana Log Homes didn't in any way make us feel like they didn't want to work with us," says Kelly. "They were highly respectful."
The couple was also lucky to find a skilled contractor to oversee the project, Neal Garbenis of Garbenis Contracting in Bigfork, Montana, who has since become a trusted friend. "I really felt like Neal had our best interests at heart," says Kelly. "Neal and his wife Linda (who works alongside Neal at Garbenis Contracting) are just like our relatives, looking out for us." Garbenis not only oversaw construction, but also built the couple a custom front door. "It's like a work of art," says Kelly.
"We build a lot for Montana Log Homes," says Garbenis. "We have a good working relationship, and Brad Neu is as good a guy as you can get." Garbenis was involved with the project from beginning to end, from the design phase to completion. "John and Kelly were the neatest people we have ever worked for, very down to earth, very family-oriented, and Kelly had a unique ability to know what she wanted the inside to look like," he says.
The entire construction process took about 10 months. "Log homes are a bit more involved, more detailed, so they don't go up like a conventional home," says Garbenis. "The dovetail and notch on the logs is an art. These are meticulously hand-fitted logs. A lot of craftsmanship goes into a log home."
The living room, with its massive custom fireplace, is the heart of the home. "It's as big as we were allowed to build it. You can hear the fireplace crackling from every room," says Kelly. "The fireplace is great. We even run it sometimes in the summer." Kelly's favorite spot is the kitchen, with its granite counter tops, custom-made cabinets built of recycled oak barnwood from Pennsylvania, and the circle-sawn fir and larch rustic flooring. "The kids sit at the counter or at the kitchen table, and there's always a board game or Legos out," says Kelly.
Garbenis describes the home as relaxing and inviting. "You just melt into it and forget your troubles," he says, and that's just what Kelly and John were aiming for. "The cabin is for decompression; we don't get cell service, we don't answer emails, and you forget sometimes what day it is," says Kelly. "You can go to town in your flip flops and dirty jeans and no one cares."
Log Home Producer: Montana Log Homes, Kalispell, Montana
Builder: Neal and Linda Garbenis, Garbenis Contracting, Bigfork, Montana
Two-story home
Square footage: 1,870, plus 1,260 square-foot unfinished basement
Bedrooms: 4
Baths: 2