A great first impression will make people want to see the inside of your log & timber home.
Whether you're building a cozy cabin, a modest retreat, or a big family getaway, the exterior of your home makes a memorable impression that gives people a sense of what to expect inside. "It sets the tone for the whole house," says Cassandra Christensen, interior designer and project coordinator for Wisconsin Log Homes in Green Bay, Wisconsin.
Curb appeal is important to a home's resale value, too—prospective buyers may decide whether they even want to look inside based on the home's exterior. "If your house is visually interesting and exciting on the outside, people want to see the inside," says Christensen.
As with most things related to home design, the key is balance. The overall design should be consistent and well planned with an eye to the big picture. Each of the different elements that come into play when designing a home—architecture, materials, landscaping—must work as a whole and suit the environment. Adding things haphazardly or at the last minute sometimes works out, but more often leads to regrets and can be hard to undo.
To make sure your home makes a great first—and lasting—impression, experts suggest some tried-and-true principles that will increase your home's "wow factor" when you're designing your home or after your home is built.
Let the wood shine. The choices you make about things like log profile, stain, and chinking are largely personal preference, but your log or timber frame home producer can help guide you toward options that look best for your home's design. They have in-depth knowledge and experience to provide insight on how you can build a home with an exterior that highlights the wood species' natural beauty.
A mix of materials. "Using different products and different textures can improve a home's exterior," says Christensen. "You can use a mix of shake and log siding, even mixing colors so there is some contrast and the exterior is not monochromatic." Gables are a great way to add different materials, like stone, shake, or vertical siding. Christensen also suggests thinking about metal roof or truss accents over gables to make your home's exterior unique.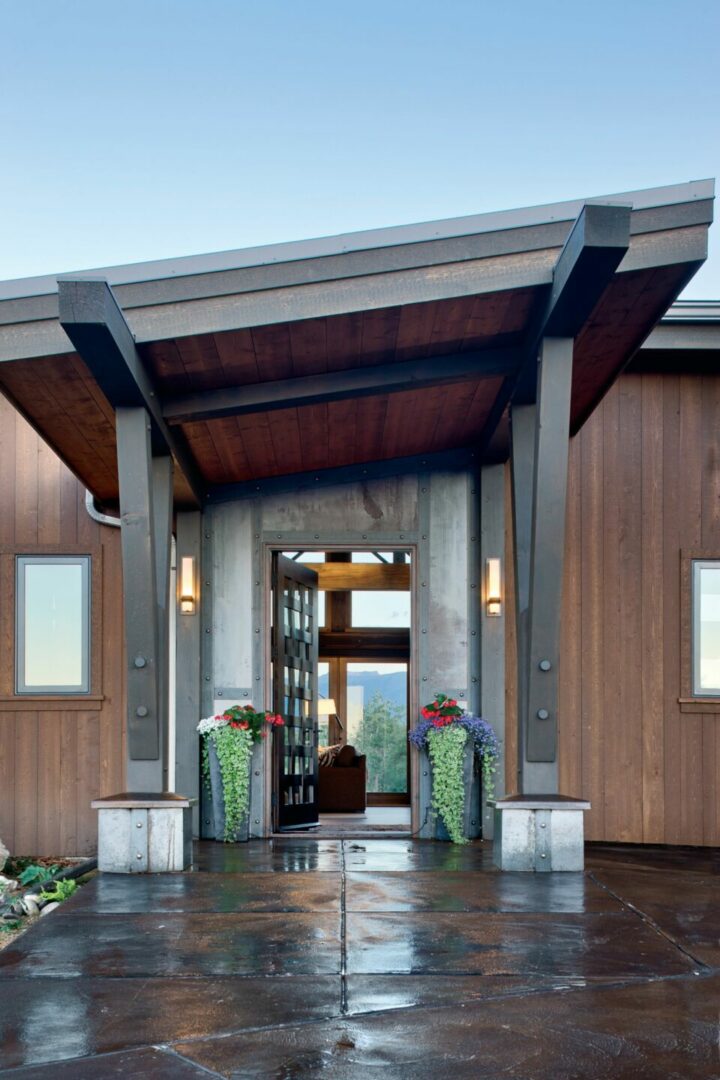 A dramatic entry. Your home's entry is like a greeting—it's the first thing people see before they enter your home. Timber framing over the entry adds visual interest and drama and a covered entry is welcoming for guests as they approach your front door. "From a design standpoint we do a lot of entry timber frames for visual impact," says Mark Wrightman of True North Log Homes in Bracebridge, Ontario. "There's not a huge increase in cost and it does a great job of upgrading the building." Entries are also a natural area to add stonework to the base of columns or install a flagstone walkway.
A unique door. A new front door can be a relatively inexpensive way to give your home's exterior a brand-new look. Look for a door with decorative glass or ironwork, an arched top, or a rustic hand-carved design, but be sure it fits with your home's overall architectural style, whether that's mountain modern or traditional log cabin. "We have a lot of clients upgrading the front door to something a little more elaborate, like a decorative patter or decorative glass," says Wrightman. "We're also doing a lot of oversize doors."
Complementary landscaping. An unkempt property can detract from your home's curb appeal, so it's important to ensure the landscaping around your home is well tended and complements both the natural environment and your home's exterior. Log and timber frame homes make a beautiful backdrop for native plants. Landscape construction is an area where you can use stone elements or pavers to build tiered garden beds or for edging. Add decorative pots or window boxes filled with seasonal flowers for a low-cost, low-maintenance pop of color. Or consider adding a water feature near the entry to give your home a peaceful, relaxing vibe.
Inspired lighting. Well-designed exterior lighting can make a big difference in how your home looks after dark, and it's one of those critical areas where function and design intersect. Outdoor lighting has come a long way in recent years, so shop around to see what's available. Use uplights or spotlights to highlight architectural focal points, like columns, or landscape elements. Install pathway lighting and a bright—but not blinding—entry light.
Don't overlook the details. Even the little things, like your doorknob, house number, mailbox, and furniture on your front porch make an impact on your home's curb appeal. Upgrading those elements is a quick, inexpensive way to freshen up an exterior without breaking the bank. A couple of Adirondack chairs or an antique bench immediately make your home look warm and welcoming!
No matter what your budget is, there are always things you can do to improve your home's curb appeal. Take a step back, look at the big picture, and think about what kind of impression you want your home to make when people see it for the first time!