A Boston couple cultivates a rewarding lifestyle in northern New Hampshire.
Richard and Linda Foote's rural getaway cabin is at the end of a lane in Sugar Hill, New Hampshire. Once you get there, you want to stay a while. Out front is a 66-acre pond—some would call it a lake. Friends and family who come to visit enjoy trout fishing, swimming, canoeing, and kayaking on Streeter Pond, as do Rich and Linda.
From the couple's outdoor parking area the landscape shifts seamlessly from natural forest to cabin yard. "We wanted to soften the land area between the woods and the cabin," says Linda, "which had been substantially disturbed during construction. We reseeded grass and, with Sugar Hill Landscapes' expertise, we selected perennials that would be hardy enough to endure the New Hampshire winters and hopefully spread."
The Footes discovered Streeter Pond when Rich, a senior project superintendent for Turner Construction, was assigned a three-year project at Dartmouth—Hitchcock Medical Center 60 miles away. "It's not a bad drive," says Rich. "The project opened our eyes to this wonderful countryside and community. It also opened our minds to the possibility of retiring up here."
The original lake house, acquired by Rich and Linda in 2002, was a rustic four-season camp. Immediately appreciating the laid-back location, the Footes determined they would eventually retire to the property once they wound down their Boston area careers. They were aiming for 2018.
"Our decision to retire in Sugar Hill was based on the tranquil surroundings of the pond, easy access to an abundance of hiking trails (including the great Appalachian Trail), and year-round small town events," says Linda, "which gave us the opportunity to get to know the locals. The seasons are beautiful as they roll through the year, and we have wonderful neighbors!"
Living permanently on Streeter Pond would necessitate considerable updating of the existing house, so in 2014 the Footes decided they would dismantle the house and build another cabin from scratch. They felt a log dwelling would fit perfectly into the rustic landscape.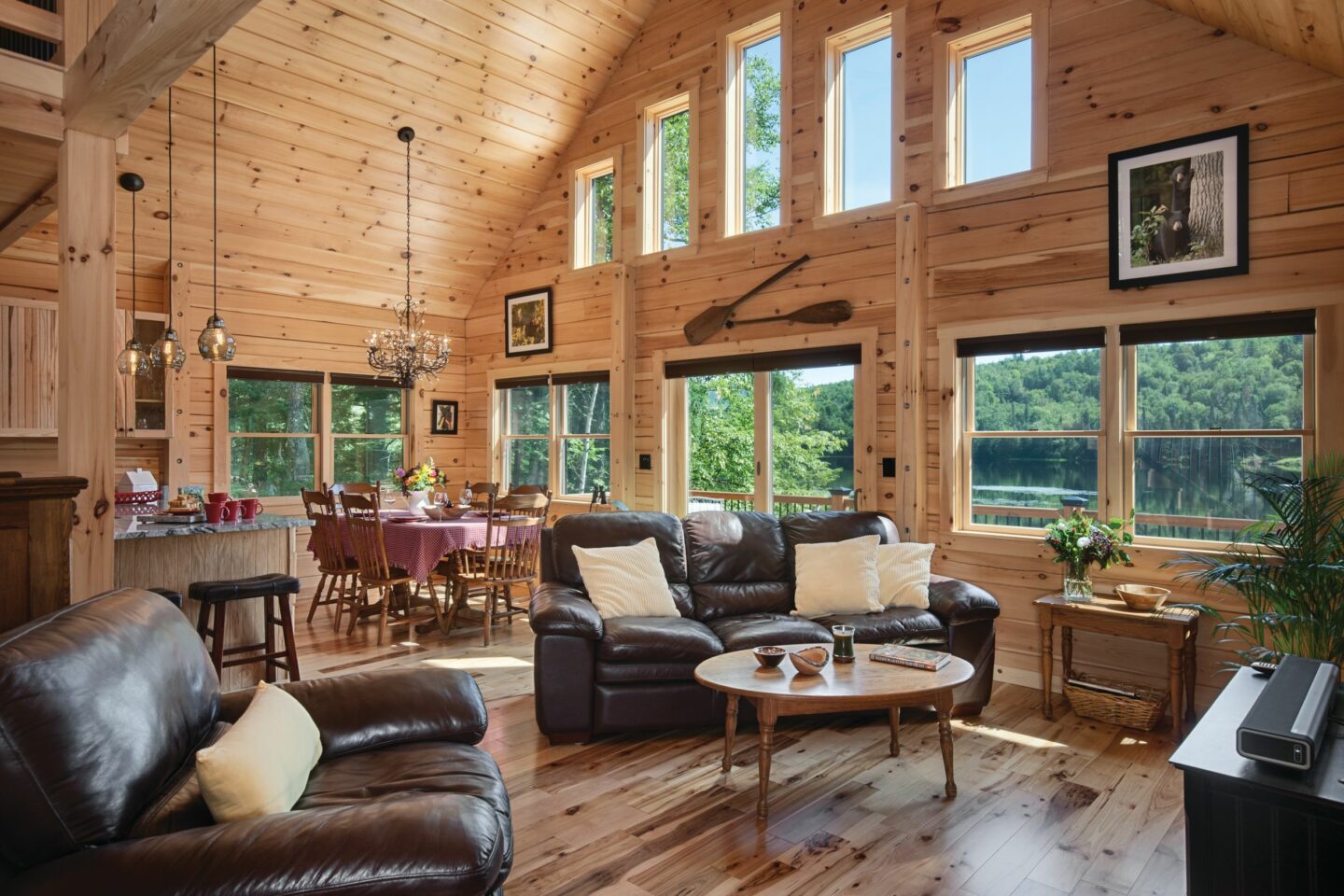 Online research and a few visits to log and timber home shows enabled Rich and Linda to narrow down their decision to purchase a log home package from New Hampshire-based Coventry Log Homes. "We worked with sales representative Richard Titorenko," says Rich. "He was extremely helpful in describing the benefits Coventry could offer, and he facilitated some tours of finished local projects so we could get a firsthand look at Coventry's product."
Although log cabin design is historically based around a pioneer-type setting and details of the 1800s, Rich and Linda wanted to blend that feeling with a contemporary style of the 21st century. The couple went with clean, modern finishes like stainless steel kitchen appliances and aluminum rails in the staircase and loft. The kitchen features light gray granite countertops with darker shades swirling through them, reminiscent of the Granite State and the abundance of New Hampshire granite that surrounds them.
Rich and Linda spent 12 to 18 months adapting and customizing Coventry Log Homes' Swiftwater cabin design. "We made modifications to the basic Swiftwater plan that has two bedrooms and a farmer's porch," explain the couple. "We extended the footprint to accommodate an expanded master bedroom and allotted part of the porch for a much-needed mudroom. The balance of the farmer's porch provided us with an 8'x12' screened porch."
"Coventry Log Homes has three draftsmen on staff and a very knowledgeable sales team," says Richard Titorenko, "so changing our standard plans is an easy task. We very rarely supply a home that is 100% to our plan. Rich Foote, being an engineer, knew exactly what he wanted and as he was planning for his electric and HVAC we moved walls by as little as one inch to accommodate electrical and plumbing chases."
Coventry's weather-tight Swiftwater design kit included all exterior doors, windows, roofing, deck, and interior partitions, with V groove pine for the interior walls and ceilings. The homeowners opted for upgrades that included larger diameter 8"x8" logs and an additional log course that created a bottom floor ceiling height of eight feet. A transparent light brown (pecan) stain was chosen to allow the pine's natural grain and knotholes to show through.
The Footes contracted Wayne Stark, an experienced local log home builder, to construct the house, but they tackled some of the work themselves. "With our son's help, before he moved out to the Pacific Northwest," says Linda, "we installed the walkout basement, kitchen and all of the tile flooring."
"Wayne was very accommodating regarding our schedule for construction," adds Rich. "He worked his schedule around our time table. We moved into the cabin only 15 weeks after demolition of the old house, right on time for a 'moving-in visit' from our daughter who lives in Seattle."
The cabin serves Rich and Linda's lifestyle well. An open floorplan with kitchen and dining areas adjacent to each other accommodates their passion for hosting meals for friends and family. A large portion of the basement is a woodworking shop for Rich, outfitted with tools for turning wooden bowls, bracelets, and wine stoppers. The couple also refurbishes and repurposes antiques in the shop.
"Many of the furnishings here in the cabin are repurposed antiques," Linda points out, "like the restored cabinet that we use for wine and stemware storage." The main level full bathroom features a vanity made from Linda's aunt's dining room buffet. Linda opted to top it with granite rather than exposing the natural wood to water splash from the bathroom sink. "We used the same granite that's in the kitchen," says Linda, "and the same slate flooring that we have in the other bath and mudroom. I feel that with a small dwelling it's best to keep finishes consistent and somewhat simple, rather than having a lot of differing palettes going on."
The Footes own another parcel of land across the street. It has a barn where they store all sorts of antique pieces that Rich will eventually refinish. "Our hope is that one day we can sell Rich's woodworking items from the barn," says Linda. "He's the type of person that always has a project going on." Rich and a neighbor converted an old 8'x8' wooden float into a 12'x12' platform to accommodate more people. "That was a fun, and necessary, project," claims Rich. "Our entire pond community uses the float. It's an easy swim getting out to it, or an easy canoe ride if we are toting margaritas for happy hour!"
Linda is an avid gardener and seamstress. Part of the finished basement is dedicated to a sewing and crafts workspace for her, situated in the recreation room that overlooks the lake. She says, "We also eagerly converted a woodshed from the original cottage buildings into a potting shed, complete with power and plumbing."
Kayaks and other boating items inhabit the storage space below the lakeside deck and stairway that climbs to it from the cabin's entry path. Every square inch of the modest-sized cabin is used efficiently.
While moving toward their goal of retirement in Sugar Hill, Rich and Linda continue to head north from Boston to Streeter Pond every weekend and holiday, excitedly anticipating living there full time. Designed for single-floor living, the couple envisions a long and happy future in their waterfront cabin. They advise, "People considering building a log cabin should research and retain a supplier that will allow customization. They should list and include all their present lifestyle needs with an eye to the future. Put a lot of time and effort into anticipating what you want now and what you'll need going forward." Having followed their own advice, Rich and Linda would happily repeat the process, and in the same manner. "Careful planning definitely paid off," they say. "It's been a dream come true. And the best is yet to come!"
Log Producer: Coventry Log Homes, Woodsville, New Hampshire
General Contractor: Wayne Stark Builders, Warren, New Hampshire
Number of Stories: 3
Square footage: 1972, including basement
Bedrooms: 2 + loft bedroom
Bathrooms: 2