Timber framing and timber accents are popular for good reason.
 Whether you're designing a full log home, timber frame home, or hybrid home, you can incorporate timbers into your design in ways that really stand out. A dramatic entryway with timbers on either side and timber framing above makes a statement from the moment you approach the house, while a great room with a high, open, timber-framed ceiling can be a true showstopper.
Timber framing and timber accents are popular for good reason. "If a homeowner is looking to elevate their home's interior to one of timeless beauty, timber accents may be just what they're looking for. There's something special about timber accents," says Bobbi Landis, marketing director for Timberhaven Log & Timber Homes in Middleburg, Pennsylvania. "Not only do they add character and charm to any home with their aesthetic appeal, but the warm feeling they provide is undeniable."
"Timbers have really become the focal points of the home," says Mathew Sterchi, vice president of Stonemill Log & Timber Homes in Knoxville, Tennessee. "Timbers make a statement about the character of the home and the personality of the homeowner." When you design your own home, you are telling people what you like and what your priorities are, and the layout and materials determine how people will experience your home. Timbers are a terrific way to add statement elements, whether you're using a timber frame roof system, character trees instead of posts, or a repeating pattern of timbers throughout the home.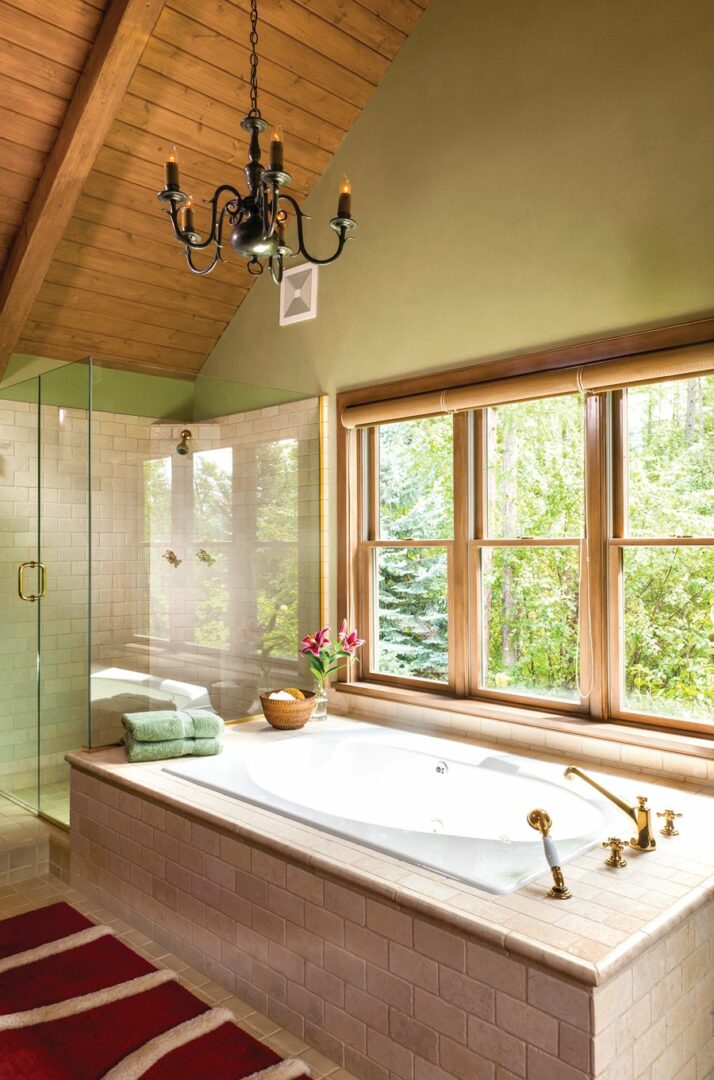 Frame your view
The top priority for many people is the view. "Most of our clients have purchased a piece of property that has a view that they want to take advantage of—whether it's a lake, a mountain, a river, a pasture," says Sterchi. "So those views become part of the design—extensions of the home itself." Homeowners naturally want to make the view a part of their home design, and timber framing is one way to do that.
Using timber framing in great rooms is not just dramatic and beautiful but makes it possible for you to have lofty ceilings and expansive glass, in turn allowing the outdoor spaces to be extensions of the interior of the home. "With timber frame construction, you get the advantage of having an open-design concept with limited interior frame," explains Sterchi. "Nothing that would take away from the view of the outdoors. It really brings the outside to the inside of the home. You can't do that unless you have a timber frame that structurally allows for that open design and that open-glass approach." This not only maximizes the views but also amplifies the natural light coming into the home.
"The timber frame components in the great room or combined living area are always my personal favorite elements," says Landis. "I love the way the timbers flank a soaring fireplace or window schematic, creating a picture-perfect frame in the space."
Consider your options
"There are endless options to consider when incorporating timbers or timber accents," says Landis. "Our most popular exterior timber elements include timber frame or post-&-beam porch systems, trusses, gable accents, decorative overhangs, corbels, railing systems, log siding, shiplap, faux hayloft doors, and more." Landis adds that for interiors, homeowners are primarily looking to highlight a timber frame system with posts, beams, and custom trusses, but they can also use character trees for posts, stair systems, rail systems, and more.
If budget is a concern, the good news is that you don't have to limit yourself to all-or-nothing; you can incorporate timber frame structures and accents only in certain parts of the house. Many people choose to design timber frame entries or timber frame great rooms only. "That's where homeowners are spending most of their time, so they want that to be the statement," says Sterchi. Then, you can save money by forgoing timber framing in the bedrooms and bathrooms—rooms that are less heavily trafficked and not usually used by guests.
"A stylish timber frame home does not have to be large or opulent to be stunning," says Landis. Timberhaven's modified single-story Saratoga plan has a modest footprint with bold timber elements. The elaborate porch makes a great first impression, and the open living space uses timber framing, exposed beams, and massive trusses.
Don't forget about the exteriors! "A beautifully designed outdoor space can set a home apart from the rest. For homeowners looking to create an unforgettable first impression, a heavy timber porch system can be quite an expressive option," says Landis. "This porch system might span the front of the home but will most definitely include a heavy timber gable truss."
Let the natural beauty shine
Using a variety of materials indoors and outdoors—e.g., drywall, stone, tongue-in-groove, and cedar shakes—can really make the timbers shine, and a pop of color never hurts! "That makes the timbers stand out more and become more of the focal point," says Sterchi. "Naturally, your eye goes right to the timber. If you're doing a timber frame roof with a wood finish on the ceiling with timber frame trusses, you can stain the timbers a bit darker. That helps them stand out and brings them down into the room a little bit."
Landis and Sterchi agree that collaborating with clients to find creative ways to incorporate timbers that make a statement is part of the fun for the pros, so talk to your log and timber frame builder about how you can highlight the beauty of timbers in your home design. Collaborating with experts on design decisions and learning from each project results in stunning homes that families treasure for a lifetime.